Virtual Pre-Symposium Session Presenters
Virtual Pre-Symposium Keynote Speaker
Professor Anthony Capon
Director, Sustainable Development Institute, Monash University
Title
Planetary health: shaping the future of rural and remote health
Summary
By most measures, human health is better now than at any time in human history. However, these gains in human health have been unequally distributed and have come at the high price of degradation of natural systems on a scale never before seen. Published in 2015, The Rockefeller Foundation–Lancet Commission on Planetary Health report Safeguarding human health in the Anthropocene epoch concludes that the continuing degradation of natural systems threatens to reverse the health gains seen over the last century. Anthropogenic global changes—including climate change, ocean acidification, land degradation, water scarcity, biodiversity loss and toxic pollution of air, water and ecosystems—have direct and indirect health impacts. The consequences for future health are far-reaching, ranging from increasing emergence of zoonotic diseases, food insecurity and malnutrition, to conflict and displacement. Those who are least responsible for driving these changes—poor people in developing countries—will be most vulnerable to their consequences. Put simply, planetary health is the health of human civilisation and the state of the natural systems on which it depends. In this presentation, Professor Capon will introduce the findings of the Commission and canvass their implications for the future of rural and remote health.
Biography
Professor Tony Capon is the Director of the Monash Sustainable Development Institute (MSDI) and holds a chair in Planetary Health in the School of Public Health and Preventive Medicine at Monash University. A former Director of the global health institute at United Nations University (UNU-IIGH), he is a public health physician and authority in environmental health and health promotion. His research focuses on urbanisation, sustainable development and population health. Tony has 30 years of leadership and management experience in research, education, policy and practice. Previously, Tony held professorial appointments with the University of Sydney and Australian National University. He was the founding convenor of the climate change adaptation research network for human health in Australia. The inaugural director of public health and medical officer of health in western Sydney, Tony also worked on the control of non-communicable diseases with the charitable organisation Oxford Health Alliance. Since 2008, Tony has been advising the International Council for Science on the development of a global interdisciplinary science program on health and wellbeing in the changing urban environment using systems approaches. He has held National Health and Medical Research Council and World Health Organization Fellowships, and has served in numerous honorary leadership roles with professional societies and not-for-profit organisations including the Australasian Faculty of Public Health Medicine in the Royal Australasian College of Physicians, the International Society for Urban Health and the Frank Fenner Foundation (previously called Nature and Society Forum).
Virtual Pre-Symposium Keynote Speaker
Professor Pierre Horwitz
Professor of Environmental Sciences, School of Natural Sciences, Edith Cowan University
Title
Environmental alliances for regional health (and sustainability)
Summary
The sectors of Health and Medicine, and Environment, appear discrete with separate budgets and ministries, separate core businesses, imperatives and activities. The two sectors have more in common than that—'healthy environments healthy people' as a catch cry is underpinned by sound reasoning and plenty of evidence. Links are profoundly exemplified by Indigenous peoples and relationships with Country. Climate change and other global environmental changes, infectious diseases and antibiotic resistance, water, food and waste systems, environmental justice and place-based health are some of many more examples, suggesting that public health and ecosystem management are interdependent and closely interwoven. Many opportunities are available for community-based and integrated public health and environmental conservation actions that are regenerative, providing multiple benefits for regional sustainability—as place-based, locally relevant activities. Indigenous-led examples are particularly promising. We draw on cases where non-governmental organisations have revealed such prospects.
Biography
Pierre Horwitz is a Professor at Edith Cowan University in Western Australia and Director of its Centre for Ecosystem Management.
For the last 30 years his research and teaching have included an ecosystems approach to the relationships between biodiversity, culture and human health and well-being, with a particular interest in wetlands and water resource management in Australia.
Pierre has held an appointment for the Ramsar International Convention on Wetlands as Theme Coordinator for Wetlands and Health on its Scientific and Technical Review Panel 2009–15, during which time he also worked with the Convention for Biological Diversity and the World Health Organization. He is a former Director of Bush Heritage Australia, President of the Australian Freshwater Sciences Society (1999–2001), and co-founder of the International Association for Ecology and Health.
Pierre is currently working with colleagues in Fijian rural communities to investigate watershed-based interventions for health systems. In Australia his current projects include the ecological characteristics of Nyoongar songlines, locating loss of values from the effects of climate change in rural and regional communities, and predicting the effects of fire on water quality in water catchments.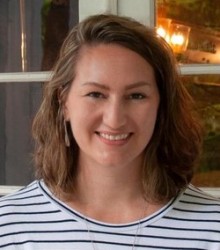 Virtual Pre-Symposium Keynote Speaker
Dr Laura Weyrich
Associate Professor of Anthropology, Pennsylvania State University
Title
The Aboriginal and Torres Strait Islander microbiome reflects long term connection to country
Summary
Beneficial microorganisms within the human body (microbiome) support health and stave off disease. However, changes to these communities linked to lifestyle and environmental changes may underpin many of the key Industrial or 'Western' diseases observed today, especially those that significantly contribute to the Indigenous health gap in Australia. Investigations of the microbiome revealed that Aboriginal and Torres Strait Islanders maintain unique microorganisms that reflect their deep connection to country and that may underpin different causes and outcomes of non-communicable disease, especially oral diseases. Further research into these microorganisms and their histories in Indigenous peoples are needed if we are to bridge the health gap.
Biography
Dr Weyrich obtained a PhD from The Pennsylvania State University in 2012 and began a post-doctoral research appointment at the University of Adelaide, in the Australian Centre for Ancient DNA.
Using her medical expertise, she helped establish calcified dental plaque (calculus) as the only fossil record of human microbiome in existence, and linked ancient and historic changes in human microbial communities to large shifts in health and disease.
In 2015, Dr Weyrich obtained a prestigious Australian Research Council DECRA fellowship, aimed at reconstructing the diversity of human microbiota around the world, including working with Indigenous people to reconstruct the microbiota from their ancestors. She became the first person to reconstruct a microbiome from an extinct species, Neandertals, and has reassembled the oldest microbial genome to date—at 48,000 years old.
In 2018, she was again recognised for her work on human oral microbiomes when she received an ARC Future Fellowship to investigate how industrialisation affected our microbes and health in the past and today.
As an Associate Professor at Penn State, she now directs the Penn State Ancient Biomolecules Research Environment (PSABRE)—one of the largest ancient DNA labs in North America—and leads a research team focused on understanding how and why microbial communities change over time in the human body and the environment.
She has received over $5 million in research funding, 21 awards for research excellence, and given over 50 guest lectures on the topic. Her research has been featured by the BBC, NPR, Science, Nature, New Scientist, NY Times, Smithsonian Magazine, National Geographic, and many others, and has been highlighted on Catalyst and a SBS documentary entitled 'Life on Us'. She has even had a Buzz Feed quiz written about her research. Her commitment to understanding how beneficial, friendly microorganisms contribute to disease, and how they shape the world around us, is changing how we view the human health today.